Feeds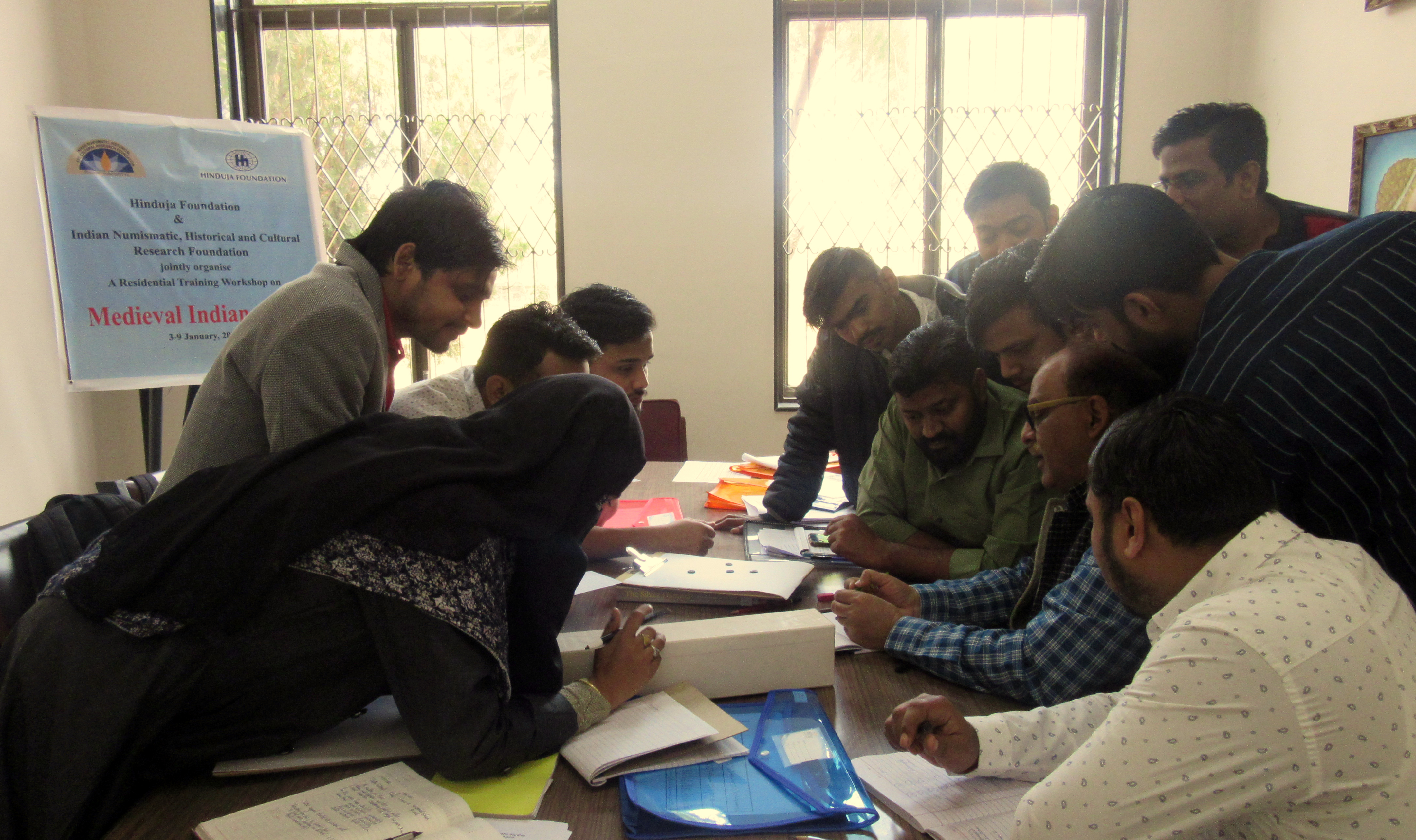 Hinduja Foundation (HF), possessing one of the finest collections of ancient Indian coins and other artifacts in its Antiquity collection, and the Indian Numismatic, Historical and Cultural Research Foundation (INHCRF) with its experience of conducting unique practical residential training courses and outreach workshops in the fields of numismatics and archaeology, signed an MoU on 28th November 2019 for a joint Outreach Programme. This included conducting 15 Awareness Workshops for school, college and university students with the objective of making them aware about our cultural heritage and its importance. Also included were three-week-long practical training residential workshops on 'Ancient Indian Coins', 'Medieval Indian Coins', and 'Tracking the Imprints of the Prehistoric Past' to provide a hands-on experience to the students.
Immediately after the signing of the MoU, between the months of December 2019 and March 2020, eight outreach workshops on numismatics under the theme 'Know Your Coins, Know Your History' and two archaeological workshops on 'Prehistoric Man in India' were conducted at various institutions: St. Xavier's College (Mumbai), Elphinstone College (Mumbai), S.B. College (Shahpur, Thane), S.P. Dnyanasadhana College (Thane), K.C. College (Mumbai), LJNJ Mahila Mahavidyalaya (Mumbai), CGS Parulekar College (Talasari, Palghar), Sathaye College (Mumbai), Espalier Heritage School (Nashik) and RN Jhunjhunwala College (Mumbai). These workshops, covering 730+ students, received an overwhelming response. Fees were charged neither from the colleges nor the students as these were sponsored by HF.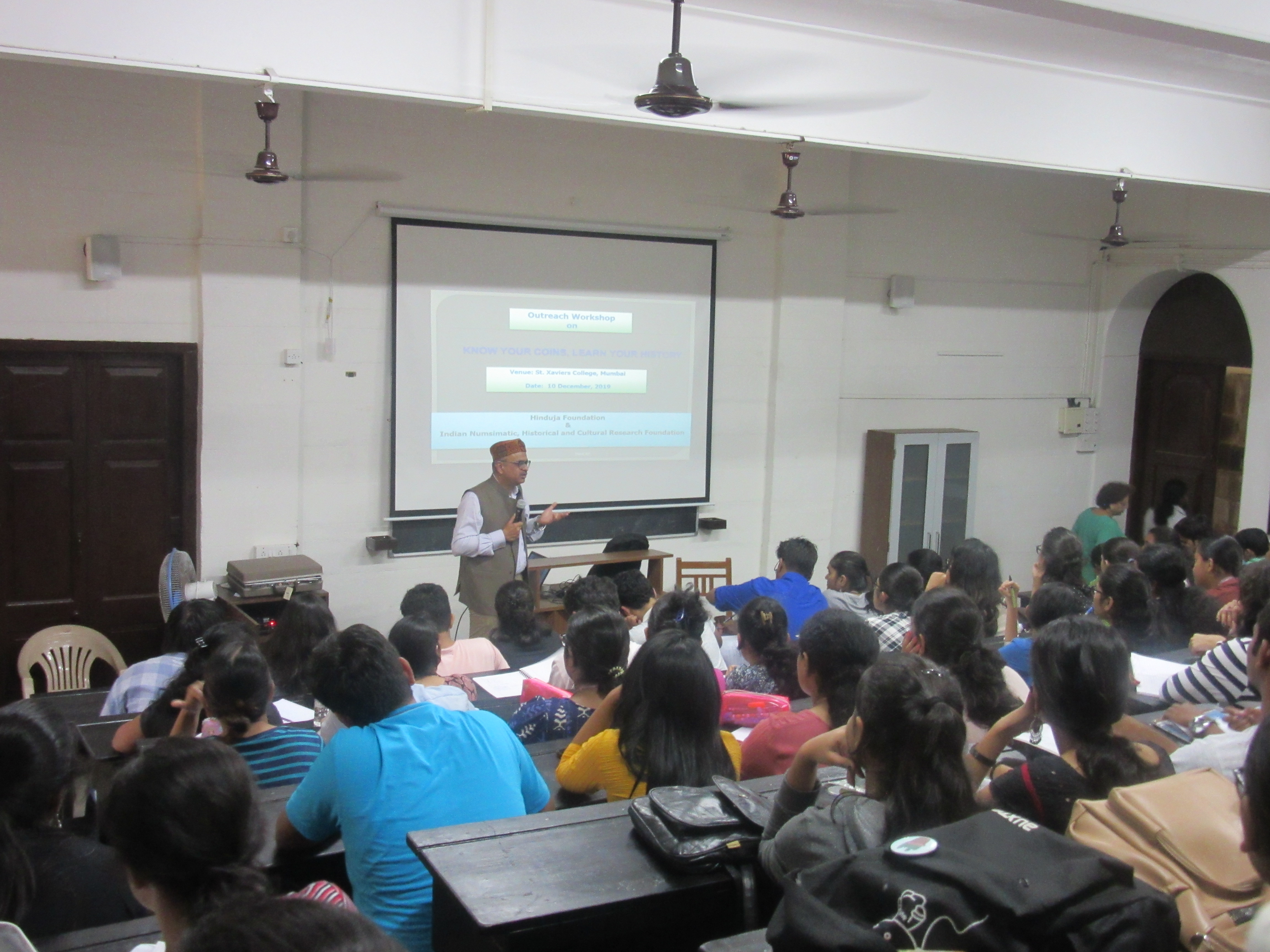 The first weeklong practical training workshop on 'Medieval Indian Coins' was conducted at the INHCRF campus between 3rd and 9th January 2020. The workshop was conducted by Dr. Danish Moin, Associate Professor at Maulana Azad National Urdu University, Hyderabad with 12 students from Lucknow, Surat, Mumbai, Hyderabad, Thane and Nashik attended the workshop.
The second workshop on 'Ancient Indian Coins' was conducted from 5th to 11th February, 2020 with the participation of 16 students from Deccan College deemed University, Pune, University of Kolkata, Ravenshaw University, Cuttack, and University of Gulbarga. The workshop was conducted by Amiteshwar Jha, Director (Research), INHCRF.
The third and final workshop in the series on prehistoric archaeology 'Tracking the Imprints of Prehistoric Past: Stone, Skills and Sediments' followed immediately thereafter on 13th Feb and continued till 19th February 2020. This workshop too received great response which had 16 students from University of Baroda, St. Xaviers College, Mumbai, Lady Shri Ram College, Delhi and University of Delhi. The workshop was conducted inhouse by Dr. Riza Abbas, Assistant Director (Archaeology) with the assistance of Shri Sitaram Toraskar.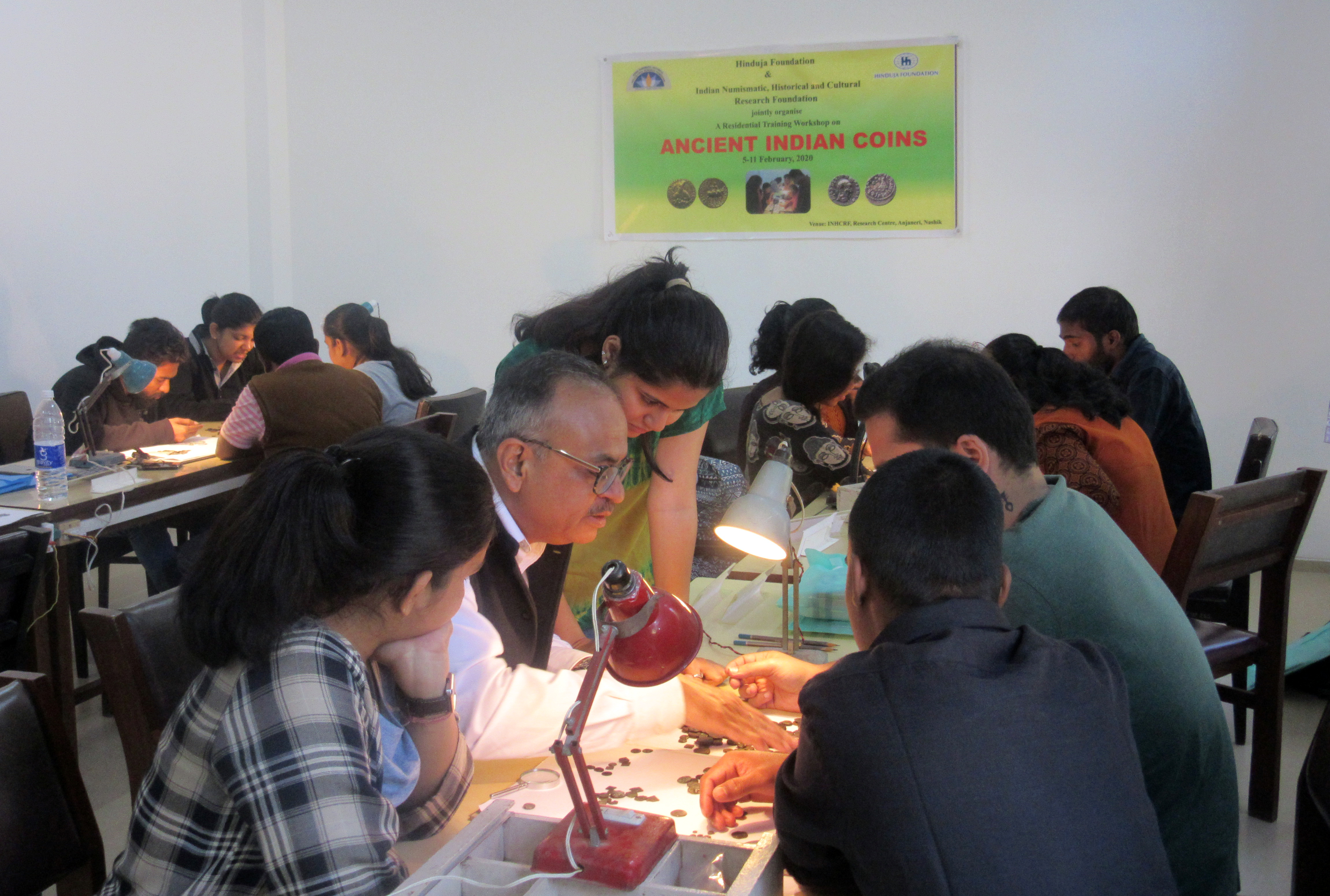 This was our first experience in conducting a joint Outreach Programme. The results were very encouraging. We thank Hinduja Foundation for taking the initiative to sponsor the workshops. In the future too, we look forward to many such joint endeavours for the purpose of training and education.
Related Blogs
Feeds
Field Survey and Documentation of the A…
10 Aug 2020
Read story
Feeds
Exclusive Residential Workshop Held for…
10 Aug 2020
Read story